Essential Yoga Workshop
Friday 17th May 2019 – 7.00pm – 8.30pm   £10  
LIMITED SPACES, CALL FOR AVAILABILITY 07508 491793
'RENEW'
Balance Body,Mind and Spirit
THE FIFTH IN A SERIES OF WORKSHOPS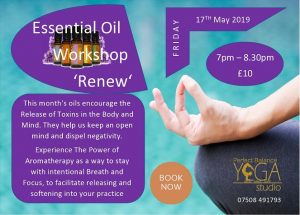 Using Selected doTERRA Oils with our Yoga practice
will help move stagnant energy'
Detoxify the Body,
Calm the Mind
Relax the Body and restore equilibrium
Is your Yoga Practice Aligned with your Goals?

Yoga provides a multi-sensory experience to learn about essential oils.
The workshop will have both a physical and emotional benefit of each
oil to help you become acquainted with the diverse properties of the oils.
One must release to receive and make space for the new.
This workshop will help you gain Clarity about your vision for the future.
Through postures and sequences, you will truly be present with your Body and Breath.
Using oils such as Peppermint will open the airways and uplift the mood, giving a 'Breather' from Life's challenges.
The 'Intune Blend' will help balance mental forces with the emotional qualities of the Heart.
This workshop asks you to explore within!
" The life we want is not merely the one we have chosen and made.
           It is the one we must be Choosing and Making."
            Wendell Berry ( American Novelist and Poet)