Essential Yoga Workshop
'GRATITUDE'
THE SECOND IN A SERIES OF WORKSHOPS
Friday 9th November 2018 – 7.00pm – 8.30pm   £10
Working with backbends and opening the energy of the heart
LIMITED SPACES, CALL FOR AVAILABILITY 07508 491793
Yoga provides a multi-sensory experience to learn about essential oils.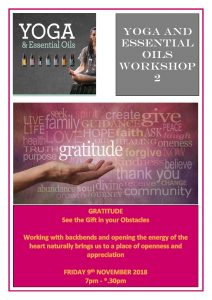 The workshop will have both a physical and emotional benefit of each
oil to help you become acquainted with the diverse properties of the oils.
One must release to receive and make space for the new.
This workshop helps to increase energy and calm the mind, while the oils
assist in emotional healing, releasing stagnant energy, feelings or blockages.
Backbend poses are included to assist you in letting go of difficult feelings.
This workshop fosters physical, emotional and spiritual healing.
The combination of oils and yoga provides a cathartic experience that
can be woven into yoga to create emotional balance.