Psychic Healing Surgery
Friday and Saturday 3rd and 4th November.
THIS SURGERY FOR BOTH DAYS IS FULLY BOOKED
HOWEVER, IF YOU HAVE AN AGREED APPOINTMENT
YOU CAN PAY YOUR FEE ONLINE … CLICK HERE
ALTERNATIVELY, CALL 07508 491793 AND PAY BY PHONE
PAYMENT TO BE MADE BY 20th OCTOBER LATEST
After the successful demonstration of Chris Ratters talents in the studio on 25th August
We are delighted to announce Chris has agreed to hold a two-day surgery in Perfect Balance.
This will be full days and it is BY APPOINTMENT ONLY.
Each session is 30 minutes and costs £40
If you would like to know more about Chris and the fantastic work he does then click on photo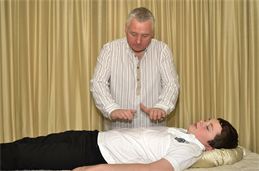 http://www.chrisratterpsychicsurgeon.com