In 2019 we will be FUNDRAISING to help and assist our local
  
at Wishaw University Hospital.
Many of our friends, family, and associates have benefitted from this wonderful service to our community
and it is appropriate that we help and assist by raising funds and purchasing additional equipment to allow everyone to regain good health.
Our first Fundraising by way of a Coffee Morning held in the studio proved to be successful to the extent that we were able to purchase twenty Fitness Trackers and a Music Docking Station to help with the rehabilitation classes.
We are now moving onto our next venture which is being held over the month of May.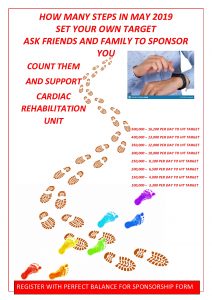 We are holding a STEPS COUNT SPONSORSHIP whereby you can either sponsor someone you know who are taking part or you could become a Step Volunteer and secure your own sponsorship.
WHAT WOULD YOU LIKE TO DO?
FILL OUT THE FORM BELOW IF YOU WISH TO SPONSOR OR FIND YOUR OWN SPONSORS FOR YOUR STEPS