VIBRATIONAL HEALING EXPERIENCE
WITH
JAMES OWEN MCCORD
Friday 4th October 2019
7.00pm – 9.00pm
Cost £15
There are only a few places left, please call 07508 491793 to check availability
You are invited to come along to this opportunity to experience Vibrational Healing where you will have included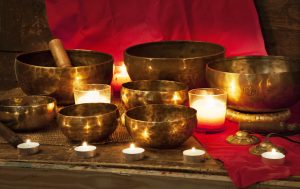 Sound Therapy and Journeying using
Tibetan Singing Bowls and Shamanic Drum.
Added to this will be Qi-gong,
Guided breathing Meditation and Movements for Health.
This will be hosted and demonstrated by the vastly experienced James Owen McCord
who is trained in Shiatsu, Reiki, Tibetan Singing Bowls, and Shamanic Drumming.
We are so pleased to have someone of his experience (See Details Below) and outlook to provided to a full evening.
So if you wish to enjoy this Vibrational Healing Experience then please BOOK NOW
THERE ARE ONLY FIFTEEN PLACES, SO DO NOT WAIT .
Jim McCord Born May 1956
Started training in the Martial Arts 1972
Achieved Brown Belt Judo
7th Degree Black Belt Karate
Karate Instructor since 1976
Started Training in Tai-Chi and Internal Arts 1996
Tai-Chi Instructor since 2001
Qualified Shiatsu Therapist, Graduating from the Glasgow School of Shiatsu June 1999
Qualified 3rd Degree Reiki Master Teacher in the Usui system of Natural Healing October 2000
20 Years Experience in Eastern Healing Systems including Shiatsu, Reiki, Tai Chi and Tai-Chi Qigong, 
Taoist Internal Meditation Systems….. Inner Smile, Healing Sounds, Fusion of the Five Elements, Microcosmic Orbit, etc 
Healing Sounds and Vibrations Therapy using Tibetan Singing Bowls and Bells, Ting-Sha's, Vibratone, Tuning Forks, Shamanic Drums and Rattle.